Recent Music Reviews
Southern White Lies has received numerous very positive  reviews -
read the reviews below as well as those for the previous CD "Long Way from Home."  
Here's a SWL few highlights, more detailed below with links.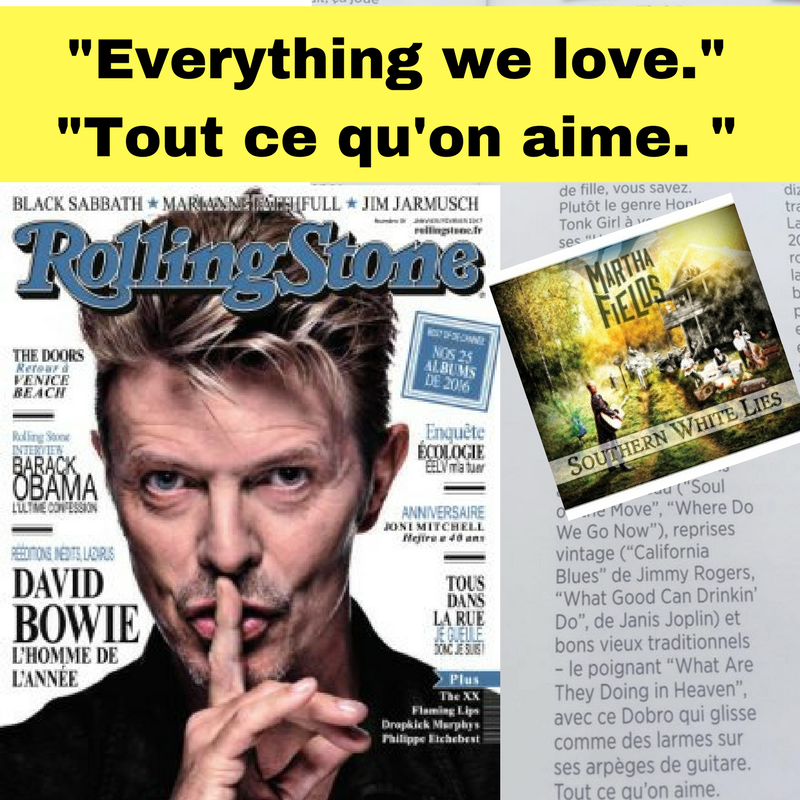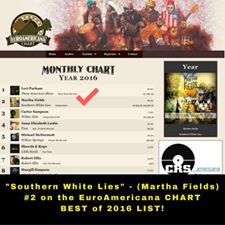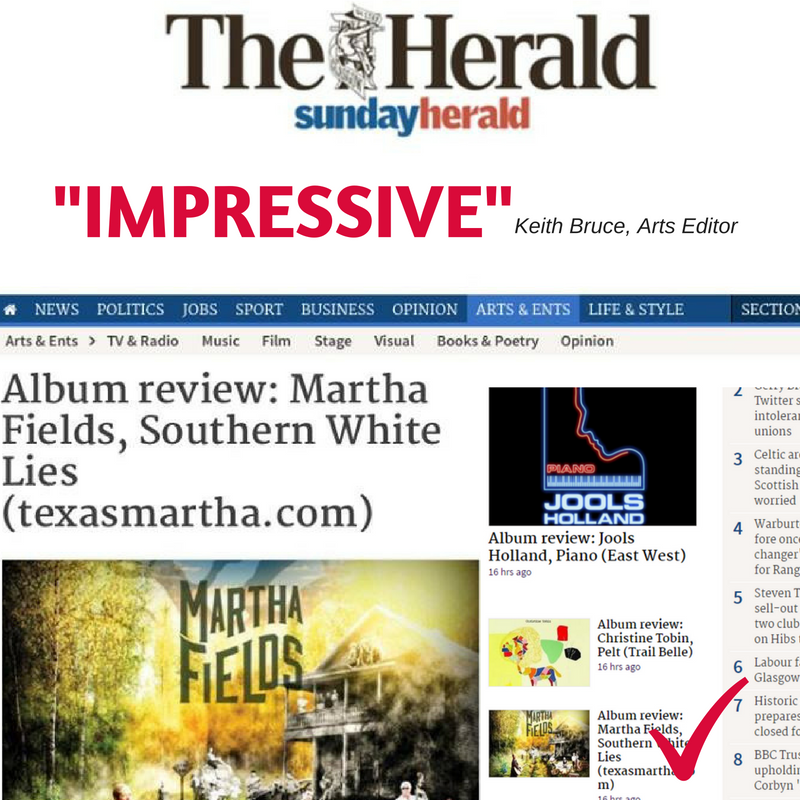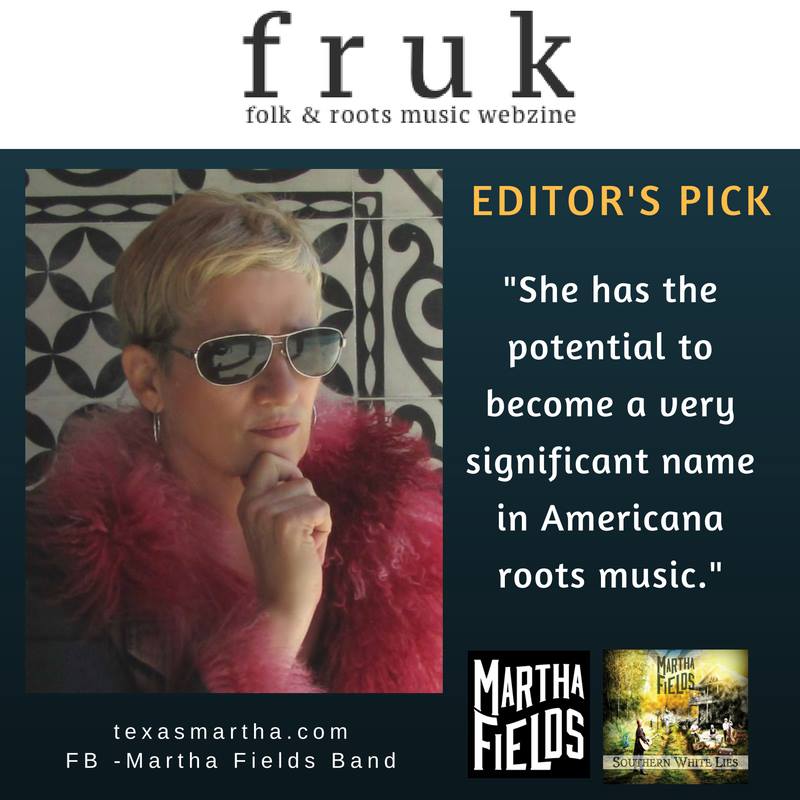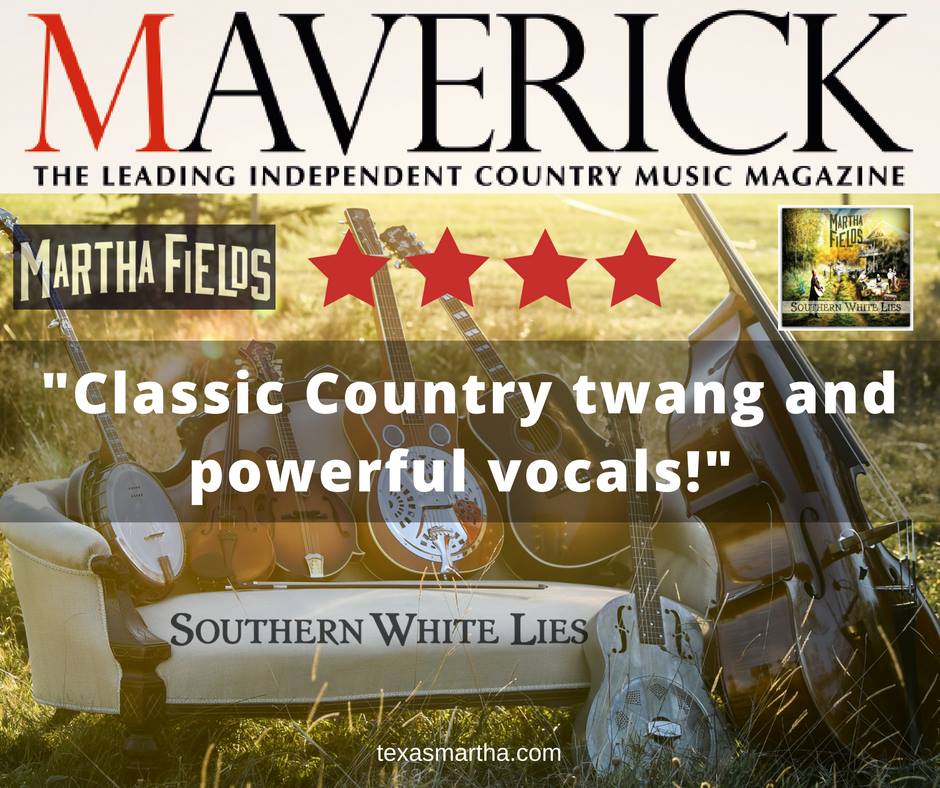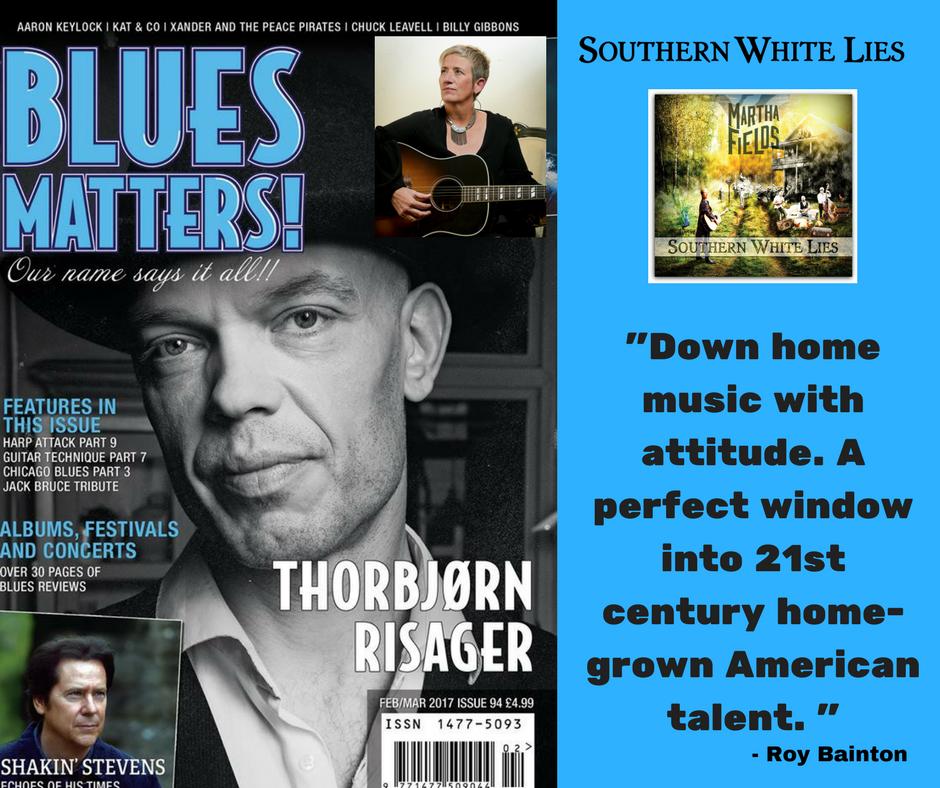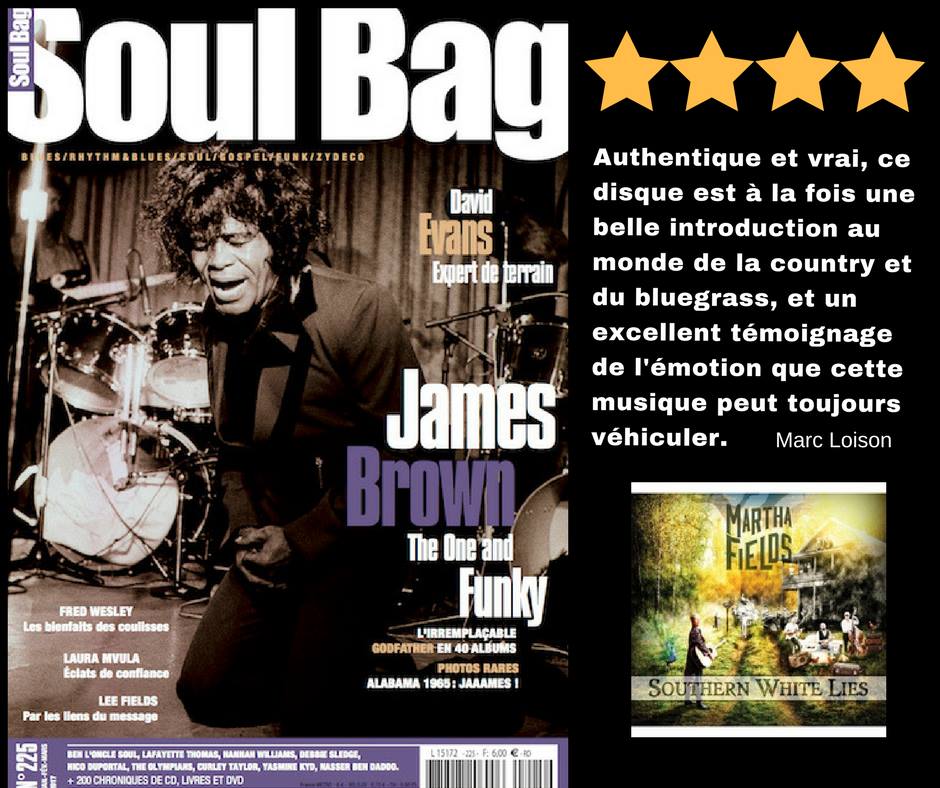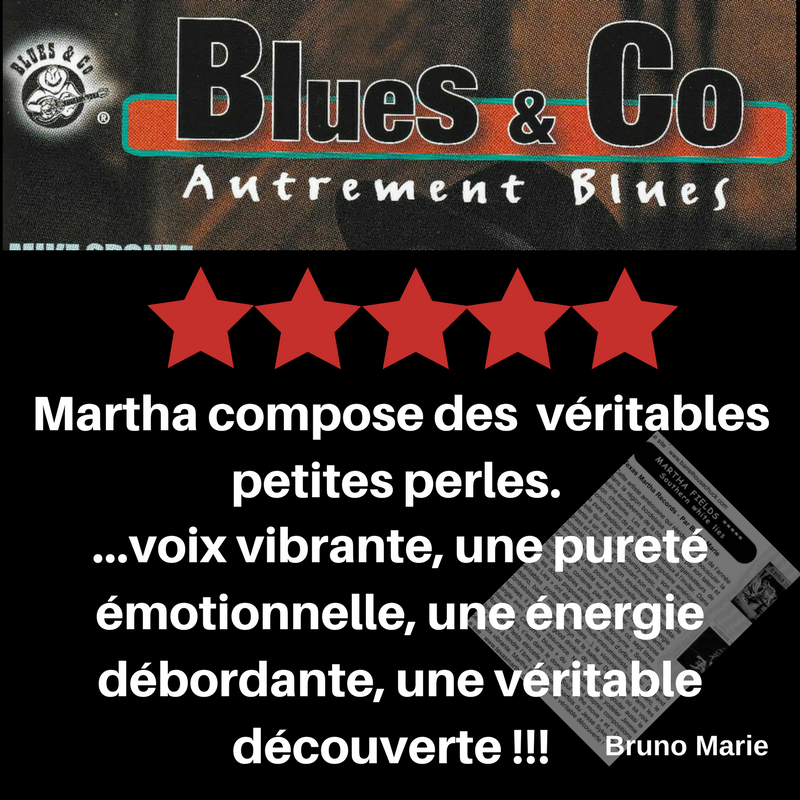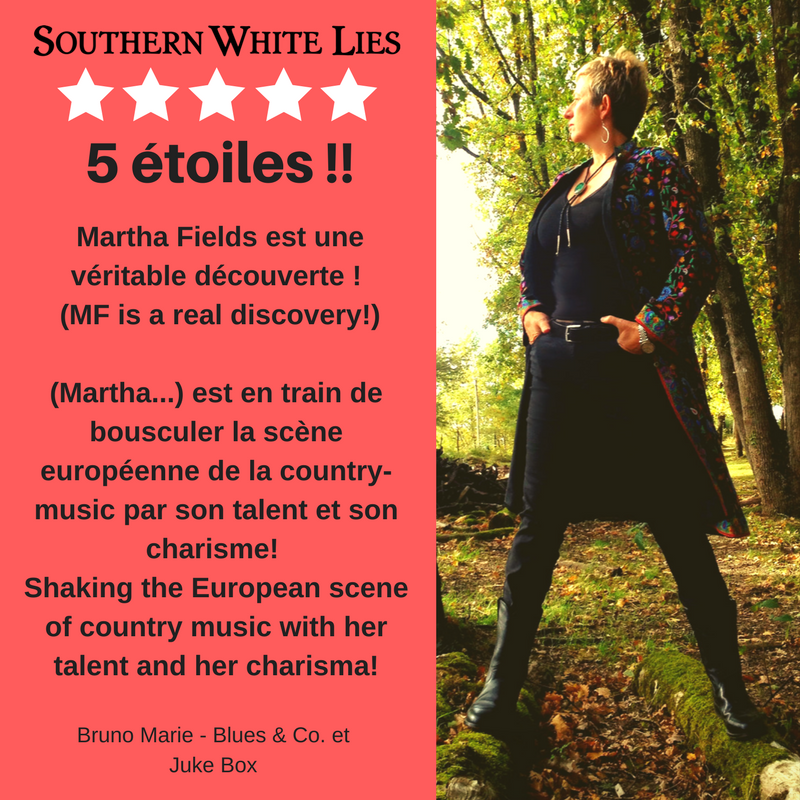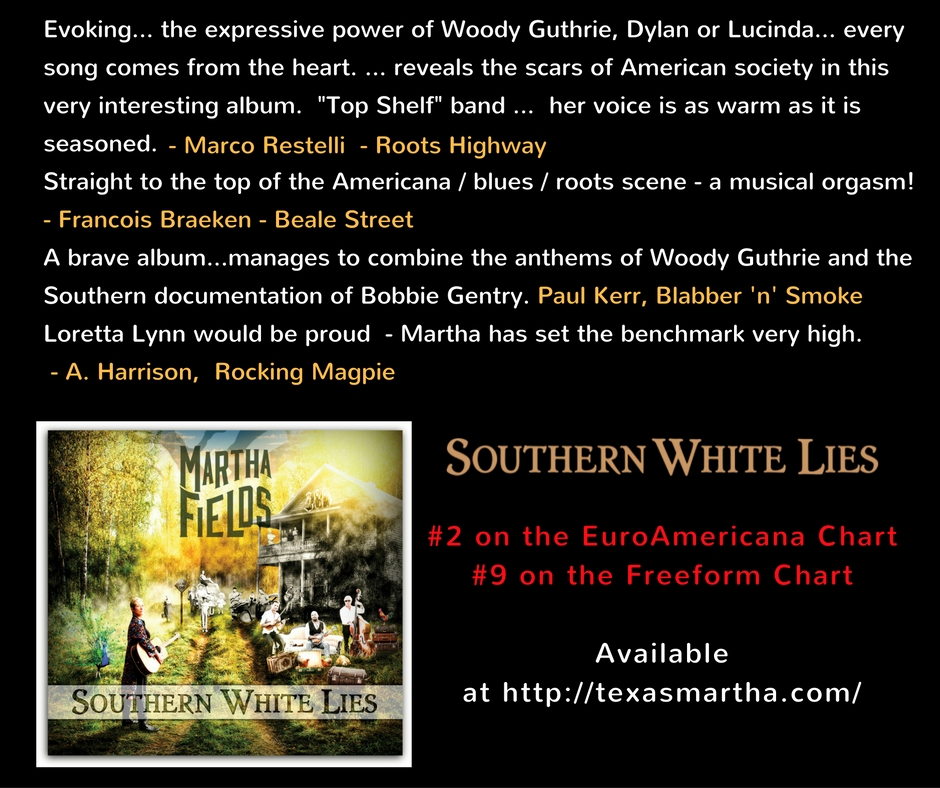 "Southern White Lies is a must have album that gives you an honest musical orgasm !!! Straight to the top of the Americana / blues / roots scene and the numerous festival / club venues in the Low Countries. " Francois Braeken of

Beale Street 

 

 "Perhaps almost never have I heard a band as tight as this one. These guys are so gelled... (they) lift each song to the highest level which is rare. I do want to sound naïve here but unapologetically, this band can be set side by side with The Del McCroury Band, and that is indeed a whopping compliment!" 
Martha's voice has that delicious Southern drawl and vocal timbre, which dwells somewhere between Loretta Lynn and Bobbie Gentry. Like the mythological sirens, you are irresistibly attracted to her voice, echoing off in the distance. Sometimes 1 + 1 does equal more than 2. On this album it's certainly true: the band and the voice sound so good together, you can simply say that the voice has become another instrument reaching the same dizzying levels as the musicians ...with both originals and covers allowing the band to show their incredible skills. "Southern White Lies" is an exceptional CD, and not coincidentally it has exploded onto the Euro Americana Charts (at #2, September 2016). Much closer to perfection you could not come - I can only give one piece of advice: go listen – "Do As You Are Told".


 

Roots Time

(Dani Heyvaert). 
You can read the full version in Dutch here. http://rootstime.be/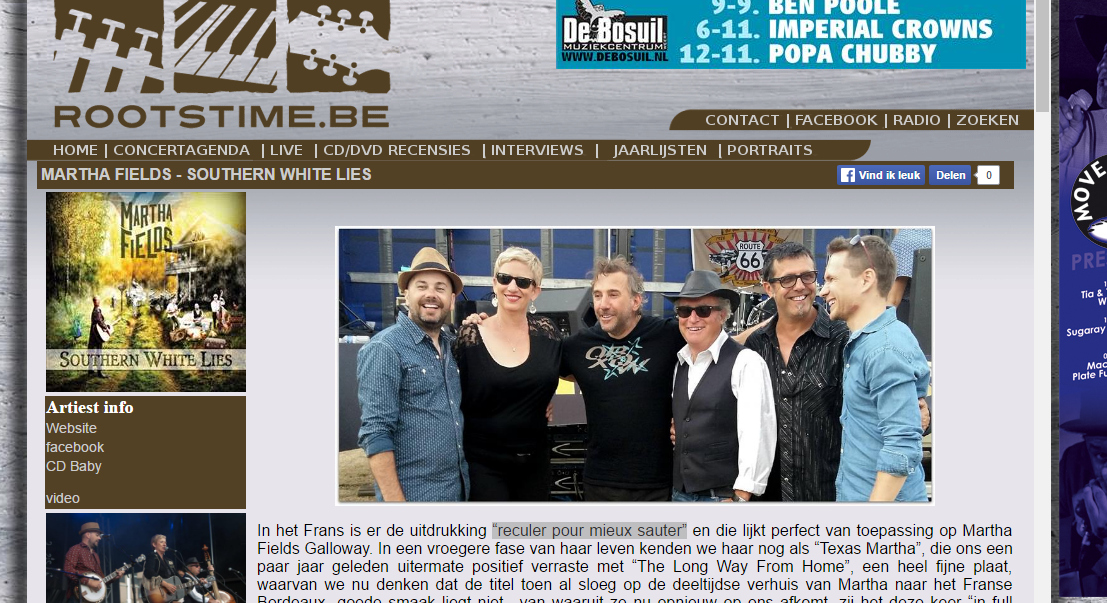 "A brave album...manages to combine the anthems of Woody Guthrie and the southern documentation of Bobbie Gentry." Paul Kerr of Blabber 'n' Smoke

 

 "

Loretta Lynn would be proud. Martha has set the benchmark very high. Martha's voice is like maple syrup laced with moonshine" 

A. Harrison of The Rocking Magpie 

Evoking the expressive power or Guthrie, Dylan or Lucinda ...every song come from the heart. Reveals the scars of American society in this very interesting album. Top shelf band and her voice is as warm as it is seasoned. 

Marco Restelli of

Roots Highway 

  

LONG WAY FROM HOME REVIEWS (2015)
Another great  review by Alan Harrison (UK) from the Rocking Magpie.   Here is the link (or read below). 
h
ttps://rockingmagpie.wordpress.com/cd-reviews-2015/texas-martha-and-the-house-of-twang-long-way-from-home/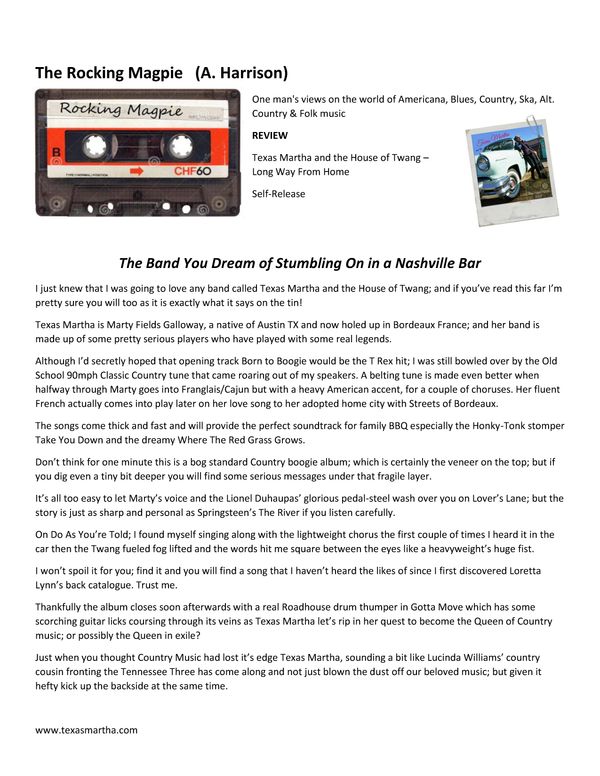 Thanks for the great review and the 4 Star rating John Conquest, Editor, 3rd Coast Music.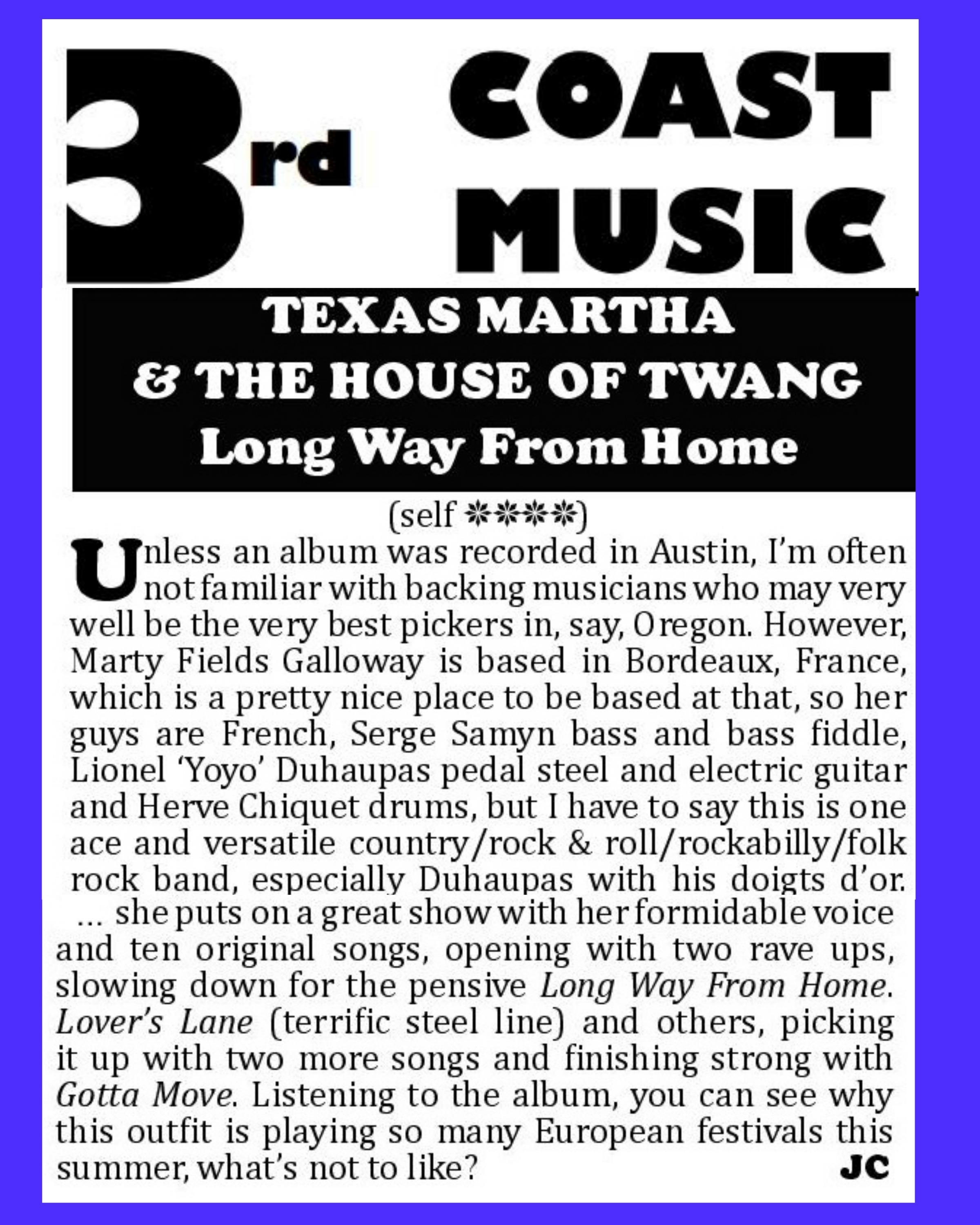 Our new CD "Long Way from Home" has been receiving excellent reviews from around the world.  (Keep reading below for various recent critiques.)



Francois Braeken, DJ and music critic from Belgium

, wrote a recent review in his publication

 "Beale Street"

. You can click to the full review here.

http://www.bealestreet.be/index.php/texas-martha-and-the-house-of-twang-long-way-from-home

   



Here is an abbreviated, translated version -  "Texan singer / songwriter Marty Fields (who wrote all 10 originals on "Long Way From Home") is currently bombarding - with considerable success -  the European country / roots / rock world from the port of Bordeaux and which no doubt explains why its House of Twang members (Serge Samyn / bass & bass fiddle, Lionel "Yoyo" Duhaupas / pedal steel and electric guitar, Herve Chiquet / drums) clearly carry French nationality. A successful trans-Atlantic marriage is so immediately apparent with the opener which speaks volumes: Texas Martha and the House of Twang are indeed "Born to Boogie.  Lionel "Yoyo" Duhaupas, pedal steel and guitar player, plays at such a devilishly high level that it seems almost alien ..... More in the Americana style,  Texas Martha's sublime "Lover's Lane", the Bob Seger -esque "Johanna" (with Vincent Samyn on keyboards) and  "Where the Red Grass Grows" which reminds me of Lucinda Williams . Getting lost in "The Streets of Bordeaux" with Martha Fields, she offers us a musical feast, a heavenly beautiful pedal steel duels with the harmonica on the title track "Long Way From Home", hell and heaven are colored by the beautiful gospel-tinged "Do As You Are Told" and the dance party continues with "Gotta Move" that makes us want to dance until early in the morning. Texas Martha  (Marty Fields) has a voice which  is a beautiful instrument and The House of Twang  is overall a warm, creative, professional country / roots / Americana enterprise! (Francois Braeken, Beale Street). 

_______________________________________________________________________________________________

Another fabulous review from the LoneStar Times (by Remo Ricaldone). We certainly have Italy in sight.

"Marty Fields Galloway, known by the stage name of Texas Martha, has roots in the hills of Kentucky and West Virginia but has also found a home in Austin, Texas where she developed her honky tonk and boogie sound. For part of the year anyway Texas Martha lives in France, in Bordeaux, where she found a fertile place for her music and has earned considerable praise and a good 'fan base'. "Long Way From Home" was, in fact, recorded in the French city in the company of some excellent local musicians who have roots in country, rock and blues. The album is really enjoyable, a wide and varied repertoire of energetic country music tinged with rock, folk and blues, and infused with  extreme passion. All the songs were written by Martha, who plays her part with determination and conviction, freshness and an obvious deep love for these sounds. It is this spirit that pervades all  ten songs, making the album a success and one of the most enjoyable in recent times, the overwhelming beginning with "Born To Boogie" and at the close with the equally powerful "Gotta Move".  We experience an alternation of truly reflective, poetic and solid honky tonk, united by the common denominator of the talent and warmth of Texas Martha. This band is a must to mark in your agenda and  see in concert on their European dates next summer. www.texasmartha.com. 

(Remo Ricalone, Lonestar Times)



Click here to read the entire review at the Lone Star Times (in Italian) http://www.lonestartime.com/…/texas-martha-house-of-twang-l…

_______________________________________________________________________________________________

Here is a review by Ian Parr (Ian's Country Music Show, Edinburgh, Scotland). "When, I just received an advance copy of the New Album, Long Way From Home by Texas Martha & the House of Twang tonight, the first thing I have to say is that it

has blown my socks off...

  this entire album is full of great energy and passion for music, which clearly comes through with every song. The album starts off with "Born to Boogie", (all the songs on the album are written by Texas Martha,) and if you do not get up to dance, then I bet your feet can not stop tapping, it is a great song to start you off on a wonderful trip, and trip is correct as the second song is called "Take You Down", taking us down south, feeling that summer heat as again you start to dance. Then you arrive with "Long Way from Home", more of a slower dance track with a little hint of sadness and a great harmonica solo. "Lover's Lane" is the 4th track which is a very heart felt song, and you hear the great voice that is Texas Martha, and this is followed by "Johanna", a song dedicated to a friend of hers, a song full of love in her voice.  "Streets of Bordeaux", brings you over to Europe, with just a hint of French in the song... and she really sings in French really well... "Where the Red Grass Grows" builds you back up again to the next song "Strike" and your feet start tapping, by now when "Do as You are Told" you will be up and dancing again... which is just as well, as "Gotta Move" is a dance track we all should have on our playlist to put a smile back on our faces...  my verdict, this is one cracking album and worth every penny/cent/euro. 
_____________________________________________________________________________________________

Another fine review from the Netherlands by Martin Overheul (in Dutch) from the February 24th issue of the AltCountry Forum.
http://www.altcountryforum.nl/2015/02/24/texas-martha-the-house-of-twang-long-way-from-home/

Here is an excerpt:  TEXAS Martha and the House of Twang divide their time between the US and France, where they now have a good reputation as a live band.  If you listen to the recently released Long Way From Home listening, this fact will not surprise you. Martha, who in real life is called Marty Fields, and her three companions (Lionel Duhaupas on guitar and pedal steel, Serge Samyn on bass and Hervé Chiquet on drums) opened with the rousing rocker Born to Boogie, a number which it is virtually impossible to sit still for long. The income twang guitar Duhaupas determines the sound, but what the rhythm section lays down is not bad either. Martha give us a perfect bite of Texas for this 'feel good' album where the Mediterranean sun plays a significant role. Listen with a good glass of sauvignon blanc at your fingertips.  (Martin Overheul, AltCountry Forum)